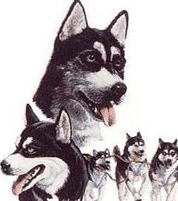 We are not looking to just "find a home" of our dogs. We are looking for the BEST possible forever home for each and every one of Siberian Huskies. Therefore, we do reserve the right to refuse to adopt a dog to any family for any reason.
If you wonder why our adoption process is so lengthy and cumbersome, many of our dogs were emaciated, sick, heartworm positive, covered in fleas, or full of intestinal worms when they came to us. At one time, their owners convinced someone that they would provide a wonderful, loving home.
Husky Haven, Inc. does not have a shelter. We are a network of foster homes located all over Houston and Austin. If you are interested in any of the Siberian Huskies listed, please fill out the below Adoption Application to start the adoption process.
To adopt a Siberian Husky from us:
APPLY First fill out the Online Adoption Application. Please fill out all of the contact information. We have to have an e-mail address. After your application has been processed and forwarded to the foster family someone will contact you. Please list the dogs you are interested in.
VET CHECK The Vet check is used to verify that any current or past animals are/were properly cared for, including yearly vaccinations and heartworm preventative.
LANDLORD If you rent your home, we have to contact your landlord to make sure you can legally have a Siberian Husky in your home. Some apartments have restrictions on Siberians and we want to make sure you are covered before we go through the adoption process.
HOME VISIT A home visit is not to judge how clean your house is, or how much money you have. It's just to make sure that you've got the space for a new Dog as well as a securely fenced yard. Siberians are notorious escape artist and need a very secure fence. This also gives us a chance to point out things you may want to be cautious about with a new family member.
MATCH UP We will then match you with a dog. — small pets or children, activity level, etc. You come out to meet the dog along with your family and other pets.
CONTRACT When we find a good match for your family, then you will fill out the Adoption Contract and pay the adoption fee.
The donation is as follows:
3 mo – 1 yr $225.00 (via PayPal $235)
1 yr – 5 yrs $175.00 (via PayPal $185)
Over 5 yrs & Siberian Husky Mixes $125.00 (via PayPal $135)
There is a $10.00 service charge for paying via PayPal.
The donation is NON-REFUNDABLE as it is a donation. The money is used for shots, neutering and heartworm treatment and any other meds or treatments the dogs may need when we get them from the local pounds.
The initial interview is to find out if you like the dog and the dog likes you. Neutral territory is important if you are dealing with two dominant personalities. If you have a strong-willed dog and you are adopting a creme puff, there aren't usually problems. Generally the rescue dog is on his best behavior for a while. It takes a few days or weeks for the dog to feel comfortable enough to start testing the hierarchy. And the dogs always have their own ideas on this that don't necessarily correspond with your own.
Besides the adoption fee, on the day adopt you will need a leash, collar, ID tags, a crate or doghouse, water & feed bowls, dog food, dog biscuits, dog shampoo, brushes, nail clippers, a chew toy, First Aid Supplies, and a fence as a minimum. Never leave a choke chain on a dog, these collars are for training only. See here what happens when a choke chain is left on a dog.
In addition, the first week the new owner will have to take the dog to a vet and get his/her on monthly heartworm (HW) prevention. This is a must in Texas!! Heartworms are transmitted by mosquito's so dogs need yearly protection. Over half of the dogs we rescue are positive for heartworm infection. Depending on the size of the dog and whether your vet will take our vet's HW test results, you will be charged for an examination, HW test, and 6 months HW prevention. Call your vet ahead of time and get the costs as they can be steep! You can expect to spend at least $150.00 a year on basic care.
You will also have to consider what happens when your beloved companion starts to get older, and starts to slow down and loose function. The sad truth is that we usually outlive our pets. Before the end, the last few years of your dog's life are often extremely expensive. We want adopters to think about this as well as how cute & affectionate the dog is today.
Please consider that this dog will live to be 12 to 14 years old. Are you willing to keep them thru MOVING–MARRIAGE–NEW BOYFRIENDS & GIRLFRIENDS–BABIES–DIVORCE??? These are already "throw away" dogs and we are looking for permanent homes for them.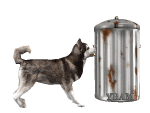 ONLY STUFFED DOGS ARE DISPOSABLE!!!!! They are members of your family and have to be considered when life styles change. You can not just dump them because they are no longer convenient!! Please consider this when adopting!!!
If you incorporate a dog into your life, if you bring him/her in when you get home from work, and walk him/ her in the evening after supper, and talk to him/ her about your day, and take him/ her to the park on Saturday, and train him/ her and love him/ her, he/she will return all your effort a hundred times over. He/She will never demand to know where you have been, he/she will always give you a sympathetic ear, and he/she will comfort and amuse and exasperate you like nothing else in your life.
If you have cats: Please check and see if the dog you are interested in is good with cats (in the description). If a dog is good with cats the description will say so. Most Siberians are not good with cats unless they are raised with them. We get very few that are good with cats, most of the dogs we rescue will hurt or maybe even kill a cat. If you have a cat and you really want a Siberian Husky, you may need to think about getting a puppy.
Do not leave any of the fields blank, if you are unsure or the question does not apply, please put N/A.
If you use AOL, please be advised that AOL blocks our @huskyhaven.org address and we may not be able to respond to you. If you have a second email address, you may want to use it or add pat@huskyhaven.org to your approved list.